Equipping our creative workers to play a leading role in building safe & equitable communities

About the Program
Majestic Collaborations in collaboration with Performing Arts Readiness is launching an online survey for arts and events professionals and venues, festivals, and arts organizations to measure their interest in ways that creative industries could contribute to building overall community resilience in their regions through the creation of safe, accessible, sustainable gatherings.
The surveys reflect a concept they call the Art of Creative Resilience, which recognizes that many of the skills and resources that artists and event workers possess align with the needs of communities and emergency management services when it comes to building local resilience and responding to crises. The idea already has a headstart in Colorado. Denver's Music Strategy was the first in the country to incorporate emergency preparedness of venues and event workers as an important pillar of a healthy regional music ecosystem. The Arts & Cultural Network for Emergency Preparedness (ACNEP) was devised as a long-term intermountain regional survey and study for performing arts entities of all kinds. The network aims to "prepare people to produce extraordinary events by embracing the full complexity of a gathering," organized by Denver Arts & Venues and Colorado Creative Industries and made possible thanks to a grant from Performing Arts Readiness and the support of Majestic Collaborations as a "circuit rider". 
The current surveys developed by Majestic Collaborations are informed by the organization's experience producing experiential training for event workers and facilitating the development of arts-based emergency networks, including through its involvement in ACNEP, as well as by the work of other allied organizations across the country.

"As we reopen and rebuild, it's important to come back better. We've been excited to see a range of arts resilience initiatives being considered by state governments, ranging from New Deal type work programs to teaching and training programs like the Comprehensive Employment and Training Act (CETA) of the 1970s, and beyond," explains Matthew Kowal, co-founder of Majestic Collaborations alongside Molly North. "Our hypothesis is that this survey will provide evidence to our government officials that our creative communities have the skills, interest, and desire to serve as hubs and leaders to improve the equity and accessibility of both events and emergency response efforts in their regions."
"Now is the time to meaningfully invest in recovery and future resilience for our arts workers and organizations, including a strong ecosystem of jobs, certifications, learning, and service models built around the resonance between event production and broader community action," adds Jenny Filipetti, an artist, cofounder of the immersive arts community advocacy organization Immersive Denver, and emergency preparedness consultant with Majestic Collaborations and Folk Alliance International.
Requiring on average only 5 minutes to complete, the survey for current/aspiring arts and event professionals inventories the intersectional skills stewarded by our creative professionals that are useful for both event production and community emergency response and resilience work. It also assesses their level of interest in various work, training, and certification opportunities. The 5-minute survey for venues, festivals, small businesses, and arts organizations measures organizational interest in grants and training that would improve the safety, accessibility, and sustainability of their programming and participate in other kinds of community resilience initiatives as a way to generate alternative revenue streams, increase staff skills, and potentially put their venue, staff, or resources in service of local needs as "resilience hubs". The results may provide direction to governments and other organizations about what kinds of artist relief and resilience initiatives to prioritize as they allocate American Rescue Plan (ARP) money and other funds.
Distribution partners of the survey include Denver Arts & Venues and Colorado Creative Industries, the intermountain Arts & Cultural Network for Emergency Preparedness,  National Independent Venue Association (NIVA) and Music Cities Together Reopening Every Venue Safely (REVS). Both surveys are open to participation nationally and may be freely shared by any individuals or organizations with their networks. Those interested in the project or receiving a summary of the responses can sign up to receive updates from Majestic Collaborations.
Background Context
According to the US Bureau of Economic Analysis, arts and cultural production accounted for over $804 billion (4.3 percent) of the U.S. economy, an impact larger than the transportation, tourism, or agriculture sectors. As of March 2021, 63% of creative workers in Colorado remained unemployed, ten times the national average. And yet 83% of creative workers nationally say they are ready today to put their creative practice to use as part of pandemic recovery, and 60% would like to support national recovery even by doing non-creative work, according to a survey by Americans for the Arts. In the event of future emergencies, the impact of redeploying our creative sectors in support of community response and recovery, rather than shuttering their operations, could be enormous.
"We invite the creative sector to advocate for American Rescue Plan funds to develop programs that share knowledge, create networks, and prepare to assist their own communities if impacted by emergency, disaster, or long-term changes in climate," says Performing Arts Readiness director Tom Clareson. 
In addition to releasing the survey described here, Majestic Collaborations has also developed a memo suggesting an initiative for Creative Resilience Workforce Development and Infrastructure Development to strengthen community capacity for disaster mitigation through investment in local creative sectors. The model builds upon the organization's existing training programs such as The Art of Mass Gatherings (whose inaugural 2019 symposium was a collaboration between Performing Arts Readiness, Majestic Collaborations, Denver Arts & Venues, and Colorado Creative Industries), online FEMA training modules, and free safety and preparedness webinars and grants models by Performing Arts Readiness, and Event Safety Alliance. 
Since its founding, Denver's Arts & Cultural Network for Emergency Preparedness (ACNEP) has held several hands-on workshops and symposia, including the following (each is linked to more details):
What Readers Can Do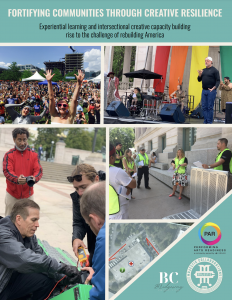 About the Organizations
MAJESTIC COLLABORATIONS provides leadership expertise in arts resilience work, grant administration, and training that prioritizes sustainability, safety, community engagement, and accessibility. They are viewed as a leader in the national arts preparedness community and their work has been highlighted in international publications to model creativity and the role of creatives in all phases of resilience. 
PERFORMING ARTS READINESS (PAR) is a nationally recognized and respected non-profit initiative with experience managing and distributing grants to performing arts organizations to help them learn how to protect their assets, sustain operations, and be prepared for emergencies. PAR's work brings together knowledge of the performing arts and expertise in both emergency preparedness and cultural heritage to conduct community outreach and engagement and to develop informational resources for arts organizations.
Together, MAJESTIC COLLABORATIONS and PERFORMING ARTS READINESS have developed various curricula which are presented in onsite workshops and online webinars. In 2021, they have hosted free grant-funded webinars about festival safety (with over 500 registered attendees) as well as event modifications and virtualizations and are leading seven onsite experiential learning Art of Mass Gatherings for Performing Arts symposia by the end of 2022.
Distribution partners of the survey include DENVER ARTS & VENUES and COLORADO CREATIVE INDUSTRIES, the intermountain ARTS & CULTURAL NETWORK FOR EMERGENCY PREPAREDNESS,  NATIONAL INDEPENDENT VENUE ASSOCIATION (NIVA), Music Cities Together's REOPENING EVERY VENUE SAFELY (REVS), and SOUND DIPLOMACY.